As a parent, you are undoubtedly interested in preparing your children for a successful life on their own. While there are many facets to this – including preparing them financially, educationally, and emotionally – some of the more practical aspects of being an adult may fall through the cracks in today's busy and technologically focused world.
One timeless and practical preparation key is helping your child learn how to operate basic tools and start their own toolbox. To help you get started, here are five essential tools to work with alongside your child – and an idea where to go next.
Hammer
The humble hammer is still one of the most widely used and practical tools anyone can use. Teach your child from a young age how to properly swing a hammer and hit targets. Small hammers with synthetic handles are great for younger kids or those with less upper body strength, so take them with you to buy any hammers intended for little hands. Get high quality, adult hammers as they take on more serious projects.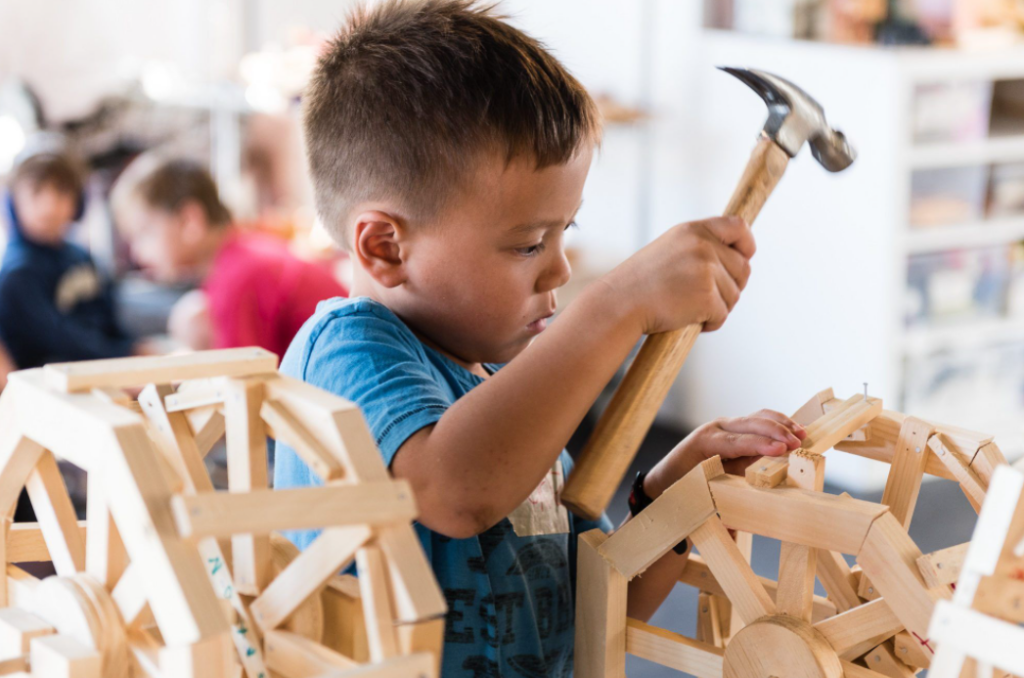 Screwdrivers
Next to the hammer, the screwdriver is one of the most used elements of a tool box. Get your little one a small screwdriver set that includes flathead and Phillips head screwdrivers of various sizes. Let them start helping out around the house when things need to be tightened, replaced, or removed.
Knife
Most young children shouldn't handle knives until they get older, of course. But a knife will be an important part of any toolbox as kids get older and especially as they move out. Look for age-appropriate knives and small ways they start cutting as necessary. Teach proper care, use, and respect of all blades. The teenage years are probably a good time to gift your kids a pocket knife or utility blade, either for their own use or as part of their designated toolbox.
Pliers
Pliers will come in handy more than most people expect. They run the gamut, from delicate needle-nose pliers that your child can maneuver, crimp, and strip small parts with, to vise grip pliers that serve as an extra hand. Teach kids to use pliers as a go-to tool to loosen and tighten items, clamp on things, and protect their hands.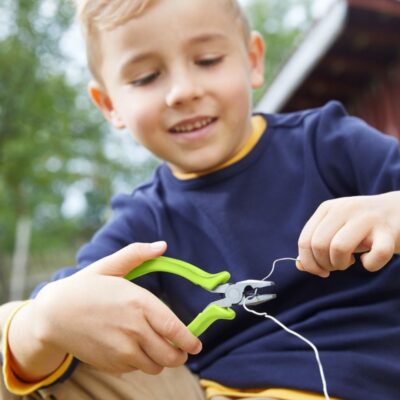 Cordless Drill
Once your child knows the basics about screws, nails, bolts, and cutting things, it's time to introduce them to the labor-saving cordless drill. Opt for a good quality brand of cordless tools and stick with it. As a starter drill, you may want to buy a smaller voltage drill – perhaps 12 volt – to make sure it's not too heavy for kids to work with.
Specialty Items
As you work with your child over the years, you'll get a sense of what their individualized needs are through their interests. A kid with a fondness for working with woods may benefit from adding sanding equipment. If he or she is a little more interested in wiring and tech, a soldering gun is a must-have.
No matter what home or hobby activity they enjoy in the garage – from upcycling backyard treasures to tinkering on their first car – you can foster it by adding specialized tools just for them.
When you are ready to start finding some tools for your child's essential tool kit, visit the inventory at Hardman's. We have a wide variety of powered and non-powered tools so that you can find the right pieces for every member of your family. The gift you give your child will surely offer them self-reliance and resiliency.