There are lots of countertop options on the market for kitchen countertops, but these 5 materials comprise a large percentage of countertops in residential kitchens. They include laminate, granite, quartz, solid surface, and butcher block. Each material has its positive and negative aspects. For instance, some are very strong while others can be scratched or marred. And some materials cost a lot more than others. Don't forget – Hardman's doesn't just sell countertops – we professionally install them!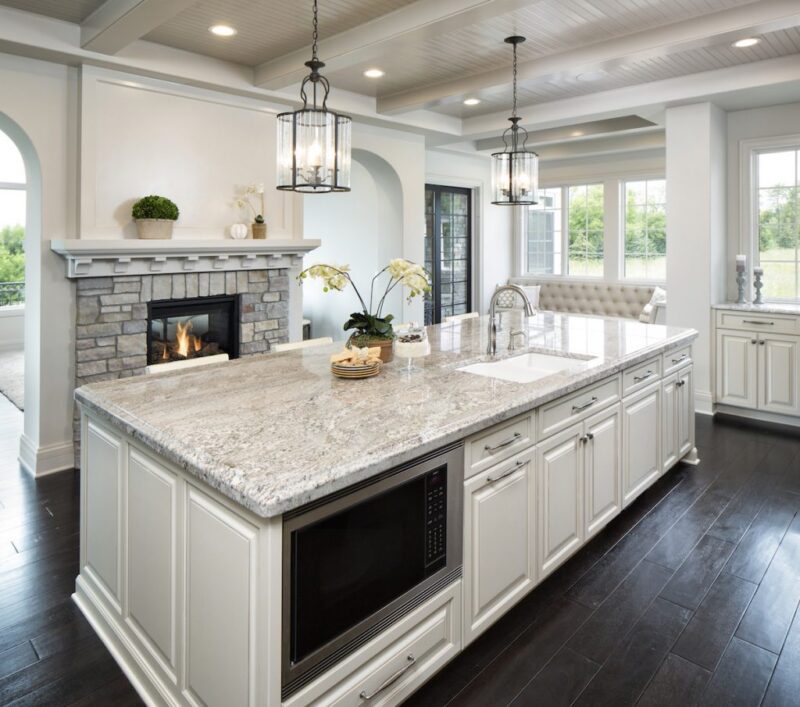 1. Granite
For some time, granite has been the countertop material of choice when there were no cost issues to consider. Granite defines elegance in a kitchen. Even modest kitchens seem like luxury spaces when flavored by the beauty of granite countertops.
Historically, granite has been an expensive material, but its cost has come down somewhat as supplies have increased and engineered stone has become more common.
Pros:

Almost impervious to heat
Very strong and durable
Adds real estate value to home
Nearly 3,000 different colors and types available
Nearly maintenance-free when treated with newer sealers

Cons:

Very expensive material
Not suitable for DIY installation
Slabs may have imperfections
Can crack if stressed or improperly installed
Knives are quickly dulled by cutting on granite
Stone is porous and requires sealing to avoid stains

2. Quartz 
The countertop material known as "quartz" is actually an engineered stone product that contains as much as 93 percent quartz particles and other minerals, shaped into slabs and bound with resins. These are not solid quartz slabs produced by quarrying.
Sold by companies such as DuPont Zodiaq, LG Viatera, Cambria, and Silestone, quartz was created as a more adaptable and better-performing alternative to granite and marble. It is available in a larger range of colors than granite and has a nonporous surface that resists both scratching and staining. Some types are convincing copies of natural marble, with similar veining. Unlike natural stone, engineered quartz requires no annual sealing.
Similar technology is now being used in so-called glass countertops, which consist of particles of recycled glass blended with resins and shaped into countertop slabs. Consumers keen on being on the cutting edge may want to consider glass as well as quartz countertops.
Pros:

DIY installation possible
Easy to maintain, no sealing required
Slabs are uniform, with no imperfections
Can be custom-fabricated in any size and shape
Resists stains and is impervious to heat and acid
More convincing, natural appearance than solid surface material

Cons:

Expensive
Countertops are very heavy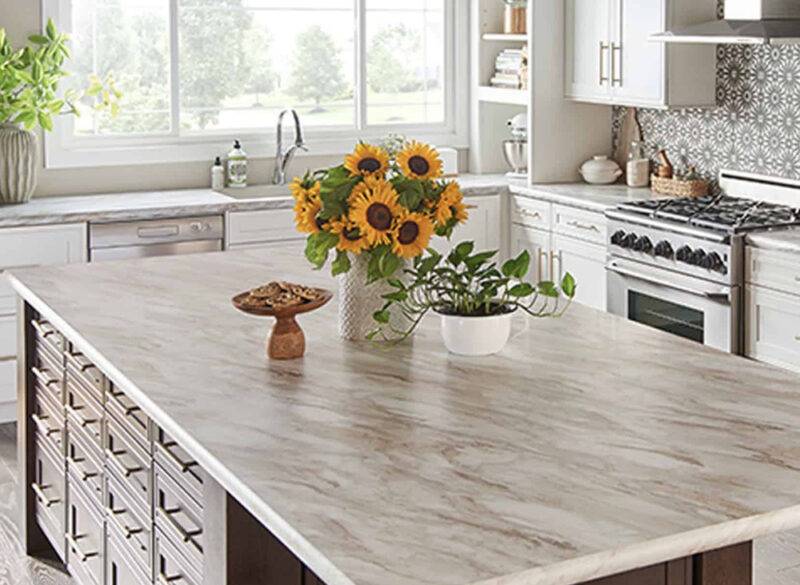 3. Laminates
Laminate counters bear trademarks such as Formica, Nevamar, and Wilsonart. The laminates are plastic-coated synthetics with a smooth surface that's easy to clean. Countertops are made by bonding the laminate sheets to a particleboard (MDF) core. Laminate countertops can be purchased as pre-formed segments (called "post-form countertops"), or custom-fabricated to specifications, either on-site or in a fabrication shop.
Although for many years regarded as more ​ordinary than premium countertop materials, laminates have seen a recent surge in popularity, thanks in part to the thousands of colors, patterns, and styles now available. Laminates are especially popular in retro designs, particularly midcentury modern kitchens.
Pros:

Very easy to maintain
Thousands of options available
DIY installation is relatively easy​
Very inexpensive countertop option

Cons:

Seams are always visible
May be viewed as too average by potential home buyers
Custom edging and backsplash treatments can add expense
Surfaces can be scratched and chipped; damage is almost impossible to repair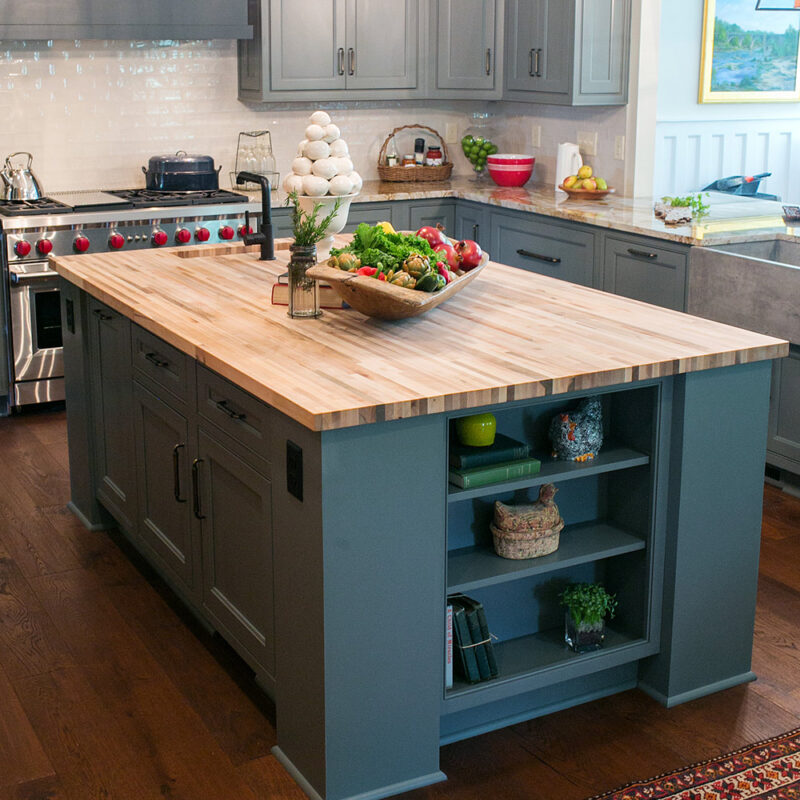 4. Wood or Butcher Block
Wood countertops offer a beautiful warm look and are available in a wide range of colors and finishes. Hardwoods such as maple and oak are the species most often used as countertop woods.
Pros:

Relatively easy to clean
Very long-lasting when properly cared for
Can be sanded and resealed, as needed
Offers a charming country look in most kitchens

Cons:

Fairly expensive countertop material
Surfaces can be scratched and cut by knives
Can be damaged by water and stains over time
Bacteria can be a problem if not properly maintained
Wood is subject to cracking if not maintained; must be oiled and sealed frequently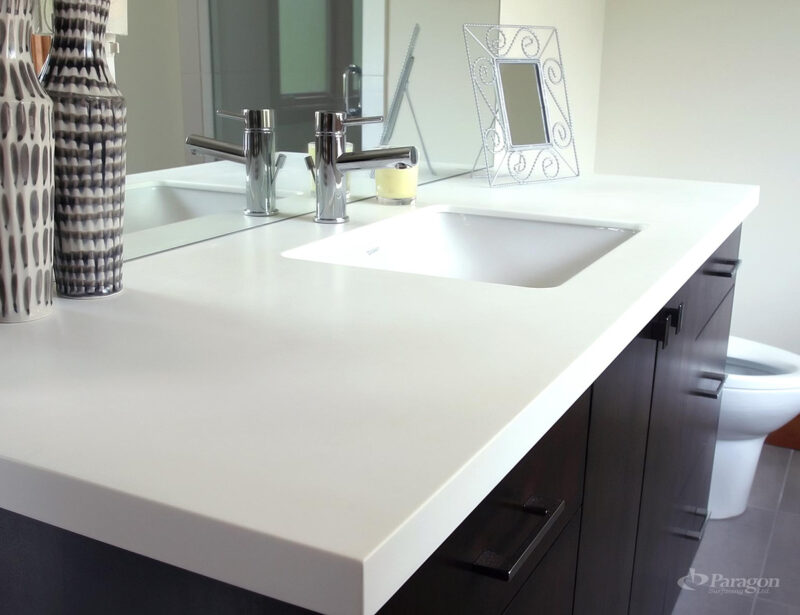 5. Solid-Surface Material
Solid-surface material, sold under brands including Avonite, Corian, and Swanstone, is a man-made material consisting of a blend of acrylic particles and resins that are pressed into sheets and other shapes. Solid-surface countertops and sinks have now been around for nearly 50 years, but at the time of introduction, they were regarded as space-age alternatives to natural stone, which they sought to mimic.
Once regarded as premium, luxury countertops, solid-surface material is now considered somewhat mid-tier, but it is still an excellent choice for mid-range kitchens. It can also be a good material in high-end kitchens with a lot of countertop space that would be prohibitively expensive to cover with granite or quartz.
Pros:

Resists staining
Seams are virtually invisible
Damage can be easily sanded out
Available in many, many colors and patterns
Integrated sink/countertop units are available

Cons:

Moderately expensive
Vulnerable to damage from hot pans
No DIY installation; must be fabricated by pros
If you have any questions, or would like to speak with one of our experts about a purchase and/or installation, please reach out!